Games with the NFT system have been increasing in popularity lately.
Binemon is one of the games with the NFT system that is being played a lot to feel the excitement in the game.
To play the Binemon game, you must be prepared to spend money.
Binemon is quite popular in Indonesia because many reviewers provide info and tutorials about this game.
What is Binemon?
Binemon is a virtual pet-themed NFT-based game that presents role-playing elements.
So you can collect and sell and buy eggs.
You can collect prizes in the form of pets to train or sell through the Binemon marketplace website.
In addition, you can claim ownership of the Binemon game.
Like other play-to-earn-based Blockchain games, you must have several monsters before starting.
The way for you to get some of these monsters is to get eggs, or you can also buy them through the Binemon marketplace using DRK tokens. The DRK token is one of the three native tokens in the Binemon metaverse.
Registering for Binemon is relatively easy. You only need to buy the required token and download the Binemon application on your cellphone.
After that, create a Binemon account and buy eggs with the tokens that were purchased at the beginning. Next, you can play the Binemon game.
How does Binemon work?
Binemon games work the same way as games with other NFT systems.
Binemon was created to provide a new experience when you try it. In this game, you can give gifts that can be exchanged.
Apart from that, you can also get benefits and introduce item ownership in the game.This Binemon game with a play-to-earn system can provide benefits for players.
The Binemon game has a diverse PvE (Player versus Environment) system, including campaigns and ancient towers combined with a diverse PvP (Player versus Player) system.
Advantages of playing Binemon
The Binemon game is one of the NFT games that makes money. Binemon also has the following advantages:
1. Addictive gameplay
Binemon offers something different and an inspiring NFT-based game experience and can generate DRK tokens with uncomplicated conditions.
In this Binemon land game, you can also take care of virtual pets with many options, such as breeding, crossing, and fighting.
When you have completed the mission to win the match against the enemy, you are entitled to a prize in the form of DRK tokens which can be used for investment.
2. Easy game
Playing Binemon is relatively easy. To get a profit, you only need to buy an egg and take care of it until it hatches.
After successfully hatching, it can be raised as a virtual pet in the game.
Every pet must be cared for properly to grow into an adult.
After that, your pet can be resold at a very high price based on its size and strength.
With this buying and selling transaction system, you can get more DRK tokens.
3. Challenging PvP and PvE battle modes
Game Binemon has various game modes, such as PvP and PvE, which are done accurately.
In PvP mode, you will fight against real enemies.
Meanwhile, for PvE mode, you can enjoy the storyline while making strategies.
4. Phase of the game
The Binemon Game presents five phases which will be completed every three months starting in Q3/2021. The game phase consists of the following:
Phase 1: Prometheus
Phase 2: Artemis
Phase 3: Athens
Phase 4: The Babylon
Phase 5: Ares
In each of these phases, you get a different mission that must complete before the step is complete and move on to the next stage.
5. Updating the ecosystem
Binemon Games announced an update of the ecosystem in it.
There are 150 million BIN tokens launched until August 2022, which will be released openly on Unicrpty.
After being released publicly, this update brings other benefits, namely tokens that can be traded within the community, a play-to-earn concept, and a sustainable game ecosystem.
6. Attractive graphics
Binemon has a colorful HD visual display to look attractive and provide a better playing experience.
Binemon's top features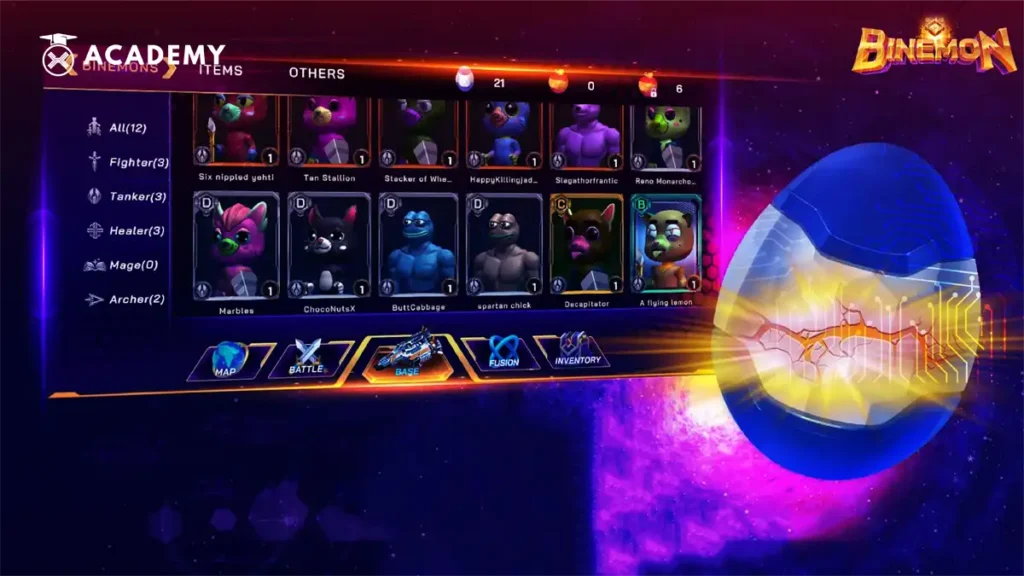 If you want to feel the superiority of the Binemon game, you must log in first.
Log in to Binemon by opening the app.binemon.io website in a browser. Then select click here to register.
Next, you can fill in the appropriate information and verify your email address.
In the last step, you can connect your game account to the trust wallet. Here are some of Binemon's excellent features:
Available with a free download.
Also available on the website version (https://binemon.io/).
NFT-based games.
Games with a Play to Earn system.
New and different virtual pets.
Unique character.
Transaction services are available.
Simple and relatively easy to use.
Crypto trading features.
User-friendly user interface.
How to Play and Earn Money on Binemon?
When you want to play the Binemon game, you need a Binemon token to start.
After the token is available, you can enter the Binemon address in a web browser.
Binemon's game mode is fascinating because you can play it in PvP or PvE mode to collect prizes. This virtual pet-themed game can generate money for the players.
This game has also launched 150 million Binemon BIN tokens. The way to play Binemon is also unique because you will have a pet that must be cared for and cared for.
By using the BIN token, you can already play the Binemon game.
This Binemon NFT game has high interest. Moreover, playing this game is very easy.
To make money, you have to collect as many prizes as possible.
That is the uniqueness of NFT games. Playing this game is also easy. You can try PvP or PvE mode in this game.
As technology develops, there are many exciting games that you can try.
One of the must-try Binemon. Because this game is entertaining, you have to take care of pets.
In addition, you can earn money while playing the game. Binemon has fun PvP or PvE game modes to play against real players.
That explained the binemon game, from understanding to how to play it.
Apart from binemon, there are also crypto-producing NFT games and free NFT games that you can try here.
Good luck!