What is NFT art, and how do you create it? This is important to know if you want to make NFTs as passive income.
The Non-Fungible Token, or NFT, is one of the various exchange rates that can be used as a source of profit in the world of crypto assets.
NFT art itself can be a form of passive income, especially for those who have digital artwork.
Buying NFTs can be a profitable investment alternative for connoisseurs and art collectors.
Investing in NFTs allows them to acquire originality and diverse forms of work from art creators worldwide, as well as the opportunity to purchase these assets physically through conversion from the NFT marketplace.
So, consider the following review to find out the definition and how to make it.
What is NFT Art?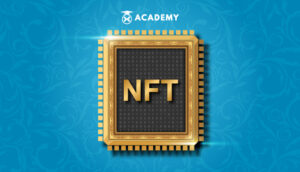 The definition of NFT art, in general, is a digital work of art that can be published as crypto assets or digital tokens (which cannot be exchanged) on a blockchain network.
Blockchain itself will make all works in its system non-duplicated. This means that all the artwork here will have its unique code.
NFTs on this network include videos, games, music, photos, screenshots of a tweet, and many others.
If you want to be an NFT artist, you should at least be able to create a work of art.
Later the work will be traded on the marketplace. The rarer and more original a result is, the higher its selling value will be.
How Does NFT Art Work?
As alluded to above, NFTs are non-fungible digital tokens. Nonetheless, NFTs are tradable.
Consumers and collectors will transact the NFT. Usually, transactions will be supported by crypto assets such as Bitcoin and Ethereum—although some use Solana or other crypto assets.
When transacted, this NFT will later become a digital work verification tool. NFT will also change digital assets and items to be collected into the sole property of the buyer.
This makes each work of art only have one NFT and one unique identity code. It should also be noted when you want to trade NFT Art. You must have a crypto wallet.
For information, each NFT provider's blockchain site usually has its crypto wallet, for example, OpenSea, which facilitates crypto wallets such as MetaMask, Phantom, Bitski, or OperaTouch.
How to Make NFT Art?
How to make an NFT can be done in several ways, including:
First, you have to start browsing the various unique assets available. You can also create personal works, such as music, photos, meme collections, and video games.
However, ensure you own the intellectual property rights to those works. If your intellectual property rights have been recorded on the blockchain, then all you have to do is sell the work.
Next, you must determine the blockchain, which is the basis of all NFT transaction activities.
Typically, NFT artists will use Ethereum as their blockchain system. That's because the price is the most stable and supported by the NFT marketplace.
An example of a blockchain that can be used is Ethereum or Polygon.
If you want to dive into the world of NFTs, then you must also have a crypto wallet.
Later, with this crypto wallet, you can convert conventional currency into cryptocurrency.
The type of wallets that you can choose include Alpha Wallet, Metamask, and Math Wallet.
If you already have a crypto wallet, you are ready to transact crypto.
Define a Suitable NFT Market
Finally, you have to determine the NFT market that suits you, for example, regarding the blockchain system that is right for you.
In this case, for example, you could use the Ethereum blockchain, which is more paid and with a broader market, or the Polygon blockchain, which is cheaper, but with a smaller market.
What Are the Benefits of Making NFT Art for Artists?
For artists and creators, here are the advantages of creating NFT art:
Protects artists regarding copyright and originality of works
Help bridge artists with similar communities
Expanding the reach of the artist's audience in producing works
Providing new opportunities for budding artists who have not had the chance to exhibit their work in conventional exhibitions
Connecting artists with collectors without boundaries
Why Can NFTs Be Highly Valued?
Profits of up to billions of rupiah can be achieved by NFT creators. What are the reasons?
This happens because NFT is a kind of copyright certificate that can guarantee the authenticity of a work of art.
However, as a difference, the NFT guarantee is not in the form of a physical certificate that is commonly found but in the form of a digital certificate.
This means that the price or value of an NFT that appears on the market is purely between the seller and the buyer—not determined by a third party.
This is like a conventional trading system that requires the intervention of the government and large companies.
In the end, one of the factors that made NFT prices skyrocket was the close relationship between buyers and creators of works, aka artists.
This also makes NFT prices dynamic because anyone can determine their NFT price.
On the other hand, prospective buyers are also free to bid as they please when they want to buy an NFT that they wish to.
How to Sell NFTs?
First, please open a marketplace that will be used to sell NFTs, for example, in OpenSea and others. For the record, make sure that your crypto wallet is active.
Enter the profile page to see the NFT collection that you already have.
Please select the NFT you want to sell.
The "Sell" option will appear, and please click on it.
You must determine the price, type of sale, and other preferences according to the instructions in each marketplace.
Continue by clicking "Post Your Listing."
In the next stage, you will be asked to complete and confirm all details. If so, the marketplace will upload (post) your NFT.
In addition, when you want to monitor the NFT sold earlier, please look for it in the "My Profile" and "Activity" menus.
Apart from knowing how to sell NFTs, you also need to understand how to deal with NFTs so they can sell quickly!
Thus the review of NFT art is essential to know. You can learn at Indodax Academy to find information about crypto assets, blockchain, and more. It may be helpful!