Litecoin mining is a method of mining crypto money with devices considered cheaper and more efficient than mining Bitcoin.
Like Bitcoin mining, in Litecoin mining, the mining process is carried out to obtain Litecoin.
So, how do you mine Litecoin, and what devices are needed? To find out, see the following review.
What is Litecoin Mining?
As explained above, Litecoin mining is a way to get Litecoin (LTC) by mining or mining cryptocurrency.
Litecoin mining can also be interpreted as validating transactions on the blockchain, closing blocks, then opening them with new ones.
Litecoin is a type of digital asset that is the successor to Bitcoin. This peer-to-peer digital asset and currency have speed and transaction costs which are considered more efficient.
What's the difference between Litecoin Mining and Bitcoin Mining?
You need to know several differences between Litecoin mining and Bitcoin mining.
The following is a full review of the differences between Litecoin and Bitcoin mining.
1. Transaction Speed
In terms of transaction speed, it takes about 10 minutes for Bitcoin to complete a transaction.
On Litecoin, it only takes 2.5 minutes. That is what makes many people prefer Litecoin over Bitcoin.
2. Market Capitalization
In terms of market capitalization, Bitcoin is the winner. In 2020 alone, Bitcoin's market capitalization reached $128 billion, while Litecoin just touched $3 billion.
3. PoW (proof-of-work) algorithm
Then, from a technical point of view, the difference between Bitcoin and other Litecoins lies in the cryptographic algorithm it uses.
In this case, Bitcoin uses the SHA-256 algorithm, which has existed for a long time. Litecoin uses a relatively new Scrypt algorithm.
SHA-256 is considered a more complex algorithm than Scrypt and allows a greater level of parallel processing.
This has made Bitcoin miners in recent years use increasingly sophisticated methods to mine Bitcoins more efficiently.
The methods usually used for Bitcoin mining consist of Application Specific Integrated Circuits (ASIC).
In contrast, Scrypt is designed to be less vulnerable to the specific types of hardware solutions used in ASIC-based mining.
This has also led many commentators to see Scrypt-based digital assets like Litecoin as more accessible to users wishing to participate in the network as miners.
4. Coin Limit
When successfully verifying, miners will receive digital asset rewards.
As for each type, digital assets have their respective coin supply limits.
In this case, Bitcoin supply is still 21 million, whereas Litecoin has touched 84 million.
How Litecoin Mining Works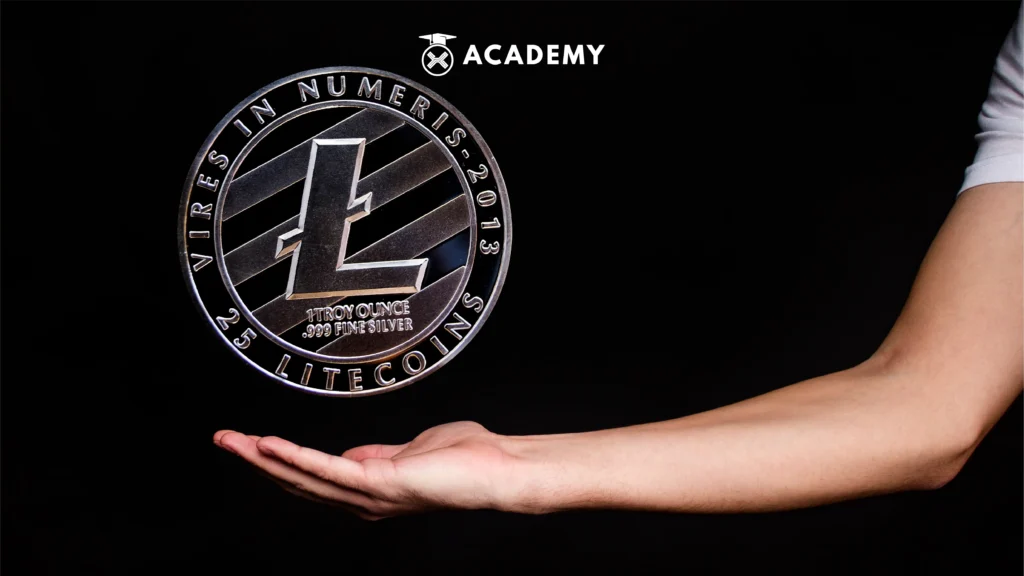 Litecoin mining is a process of breaking a mathematical code that has been set up so that humans cannot do it.
Therefore, regarding how Litecoin mining works, you must have a super-sophisticated computer device if you want to become a miner.
Later, the transaction block will be verified if you succeed in mining. Miners will also get rewards in the form of coins.
How to mine Litecoin starts with creating a personal Litecoin wallet to store the Litecoin mining results later.
Then, the miner will choose the hardware to be used. After that, miners can start mining Litecoin by following the instructions in the software package.
Types of Litecoin Mining
There are several types of Litecoin mining that you need to know about. The kinds of Litecoin mining are as follows.
1. Solo Mining
Solo mining is a mining activity that is carried out alone. In the process, the miner will prepare the device and do the whole process alone.
Before mining by solo mining, a miner must have significant capital, including buying equipment and electricity costs.
However, this capital will be commensurate with the results later because miners can keep the results private from other parties.
2. Cloud Mining
Cloud mining can be tried if you are reluctant to spend a lot of capital to mine Litecoin.
To do this type of mining, you only need to pay for a Litecoin mining rig, a computer set for digital mining assets.
3. Mining Pools
In contrast to solo mining, pool mining is carried out by several miners who share resources and capital to mine.
The opportunity to get more Litecoin than solo mining is also determined by the number of miners who join the mining pool.
Application for Litecoin Mining
If you have started the process mIf you want Litecoin, there are several recommendations for Litecoin mining applications that can be used to monitor mining. Here is the review.
1. Minergate
MinerGate was originally just a website for digital asset mining. So, now the MinerGate Control application for smartphones is available.
MinerGate Control allows users to monitor their mining process on the MinerGate site.
Not only monitoring the crypto mining process but MinerGate Control is also equipped with features to communicate between fellow miners at MinerGate.
2. Droid Miner
Droid Miner can also be the best solution for those who want to mine without wishing to be bothered by advertisements.
This application also helps miners mine other digital assets, including Bitcoin and Dogecoin.
Another exciting feature of this application is that it can run programs in the background and disable programs when the cellphone is charged automatically.
3. Crypto Miner
Next, there is Crypto Miner, which has a simple operational view. This application is also highly recommended for novice miners.
However, the drawback of this application is that not all of its algorithms can be used for free.
In this case, you must spend $2.28 for your favorite algorithm to access it.
Conclusion
In conclusion, Litecoin mining is a way to obtain Litecoin (LTC) by mining cryptocurrency or mining.
Litecoin is Bitcoin's successor type of digital asset, with more efficient transaction speeds and fees.
The difference between Litecoin mining and Bitcoin mining can be seen in several ways, including transaction speed, market capitalization, PoW (proof-of-work) algorithms, and coin limits.
Litecoin mining consists of solo mining, cloud mining, and mining pools. Meanwhile, some application recommendations for Litecoin mining are Minergate, Droid Miner, and Crypto Miner.
Apart from Litecoin mining, there are also other types of crypto mining that you need to know about, namely Bitcoin mining and Dogecoin mining.
So, you can read articles on how to mine Bitcoin and Dogecoin for free only at INDODAX Academy.
I hope it is helpful!