In the world of games today, there are many types of popular games, including Massively Multiplayer Online Role-Playing Games (MMORPGs). One of the most popular MMORPG games is MIR4, or "Men in Ruins 4".
Developed by WeMade, a South Korean gaming company, MIR4 takes players into a rich fantasy world with an epic story, intense battles, and stunning visuals.
As is known, games and cryptocurrency, as well as non-fungible tokens (NFT), often have a close relationship. In this case, MIR4 is one of the games that uses NFTs. It is important to know again that NFT is a unique digital representation of real or digital assets in blockchain technology.
The "non-fungible" nature means that each NFT is unique and cannot be exchanged with each other like "functional" crypto assets, for example, Bitcoin or Ether. That uniqueness is what makes NFTs so valuable, especially in the context of games like MIR4.
So, to better understand what the MIR4 NFT game is, how it works, MIR4 gameplay, and a guide on how to download and play MIR4, see the following review.
What Are MIR4 NFTs?
In the context of the MIR4 game, NFTs are used as digital representations of rare or unique assets in the game world. These can be rare characters, special items, art, or other items that provide additional value and a deeper gaming experience for players.
MIR4 NFT itself is generated using blockchain technology, which ensures uniqueness, proven ownership, and transparency in trading.
Each NFT has a digital footprint that records its ownership and transaction history on the blockchain. The uniqueness and value of NFTs come from several factors, ranging from ownership and authentication, limited quantities, special characteristics, and value in the community.
It should also be understood that MIR4 NFT is closely connected to the unique characteristics of the MIR4 game. In the world of MIR4, there are rare characters, rare items, special art, and other unique items represented as NFTs.
NFTs can be connected to unique characteristics in games for several reasons, including rare characters, special items, art and collectibles, in-game markets, and the status and prestige of NFT ownership.
How MIR4 NFTs Work
Basically, MIR4 NFT works on the basis of blockchain technology, which is a decentralized database that records transactions in the form of interconnected and encrypted blocks. It allows for the secure, transparent, and durable creation, validation, and management of digital assets.
In MIR4, there is a process for creating, owning, and transacting NFTs. Regarding the creation of NFTs, MIR4 developers will create NFTs that represent rare characters, items, or other assets in the game. These NFTs are assigned special attributes that differentiate them from ordinary assets, such as unique statistics or a special design.
Regarding NFT ownership, players can obtain NFTs in various ways, including by getting them as gifts, buying them from the in-game market, or through certain achievements. Once owned, the NFT is recorded in the player's digital wallet linked to their account.
Meanwhile, in terms of NFT transactions, players can trade NFTs with other players through the in-game market. These transactions are recorded on the blockchain, ensuring transparency and authenticity of ownership.
Furthermore, in the MMORPG game itself, there are several advantages to using NFT, including clear ownership, uniqueness and rarity, the economic dimension of the game, customization and prestige, supporting game development, and interaction with the community.
Getting to know MIR4 Gameplay
It should be noted that MIR4 is a type of MMORPG game that has a number of interesting elements, and that is what sets it apart from other games. Here are a number of unique aspects of its features, including:
Language
Regarding the language used, the MIR4 game can be accessed in as many as 12 different languages. The various languages available in this game include English, Japanese, Chinese, and Thai.
Besides that, MIR4 can also be played in more than 170 countries and regions globally. The MIR4 development team also provides a language translator feature in the chat column in order to make it easier and minimize language barriers among MIR4 players.
Servers
In terms of servers, there are six for players to create their characters, including Europe, North America, South America, India, Asia, the Middle East, and North Africa.
Class
The MIR4 NFT game consists of several classes that you need to know, including:
Warrior: A class of tough warriors who use greatswords (swords) as their main tool. They have greater melee attack capabilities to fight their enemies. As a newcomer to MIR4, the warrior is the best MIR4 play-to-earn character for balanced and simple gameplay.
Sorcerer: This is a mage class capable of casting deadly magic spells with a wide area of effect (AoE). This class basically does not have strong resistance, even though its magical attacks are quite powerful.
Therefore, the sorcerer will need the help of other players. For those of you who play MIR4 with friends, Sorcerer will be a player who can increase your chances of winning the battle.
Taoist: This next class is the biggest support in MIR4. His skills include melee range, magic attacks, and recovery abilities that can help team members when they are in difficult situations.
Lancer: Lancer is a hybrid assassin class in this game that can deal the most damage in close combat with a number of supporting skills. However, the Lancer class is less durable than the Warrior class, which requires more knowledge about the game.
Arbalist: This is the newest class in the MIR4 game, which explains archery and long-range DPS combat. This class is known for its debuff skills, which will slow down and exploit the enemy's weaknesses and then destroy them.
Ice Cage: This class is the most impressive in the MIR4 game because it can make players bind enemies with ice chains. This method can be used in an effort to stop enemy attacks.
Spirits
The spirits referred to in this game are pets that can be summoned in an effort to strengthen players throughout their exploration. Spirit will help players a lot to deal with high-level enemies with great destructive power. Based on rarity, there are different grades of spirit.
In the "Menu", players can click "Spirit" to find out the spirit's name, skills, and spirit stones. Players can choose a maximum of five spirits to participate in battles according to their current level and achievements.
Treasures can even be used to increase spirit power, which can later be useful in war. However, treasures already used to upgrade a player's spirit could not be replaced later, and any new treasures replaced would nullify the old ones.
Life skills
Another important part of the MIR4 game is the development of the player's character and life skills. Life skills that can be developed are farming and mining resources, especially darksteel, which is a rare resource that will provide additional income for players just by playing the MIR4 game.
Free loot
This feature is useful for giving players a greater sense of victory. A treasure box will also be given after the player successfully defeats the monster. Whether participating in the battle or not, anyone is eligible to claim this chest. If you want to open the chest, the crew only has 30 seconds, so they have to be careful to be safe from the dangers.
Darksteel
The way to get additional income in MIR4 is by collecting Darksteel, which is the matte black metal that MIR4 players are looking for. This darksteel can later be exchanged for DRACO tokens.
In this case, you should be able to reach level 40 if you want to mine in the dungeon. The best locations to mine darksteel are Bicheon Valley and Snake Pit Valley.
Guide on how to download and play MIR4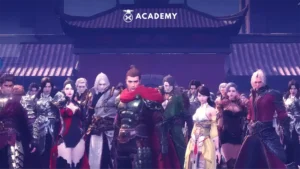 Before going into the discussion regarding how to download and play the MIR4 game, it's important to know that this one game can be played for free, both on PCs and mobile devices.
Apart from that, MIR4 itself is made with Unreal Engine 4 graphics, so the visuals look solid. Therefore, the device used must meet minimum specifications, including:
Minimum Specifications for PC
CPU: Intel Core i5-5200U 2.2 Hz

Memory: 4GB

Graphics: Nvidia GTX 650/AMD Radeon 530

Operating System: Windows 8.1 (64-bit)

DirectX: 11

Storage: 10GB
MIR4 Specifications for Smartphones
CPU: Snap Dragon 820, Exynos 8890 or higher (Android); iPhone 7 or higher (iOS)

Operating System: Android 6.0 or higher; iOS 13 or higher.

Memory: 4GB
For those of you who feel you have met the specifications above, then play calmly. You must first register and create an account using the following steps:
Download and install MIR4 via Google Play Store (Android), Apple Store (iOS), Steam, or on the official

MIR4 page

.

If the game has been installed then please open this game. Next, you will be asked to register using a Google, Apple or Facebook account.

Please choose a server according to your region/location.

If you want to play this game on another device then please select the Data Transfer option.

Finally, you can also play this game using a Guest account without needing to connect your email.
For those of you who have registered, here is a guide on how to play MIR4 that you need to pay attention to:
You will get instructions in the form of tutorials and automatic gameplay at the start of this game. This aims to introduce the features of MIR4 to new players.

Then, you can equip the equipment and character skills that you have. Here, there are 5 characters to choose from, including Warrior, Sorcerer, Taoist, Lancer, and Arbalist. Next, please carry out the Quests and Missions in this game.

You can also join a clan of up to 50 players to fight with other clans.

In MIR4, you can also do farming and mining for Darksteel. You can also gather allies to get rare loot for free and besiege your opponent's castle.
Conclusion
In conclusion, MIR4 or Mountains Iredia Realm 4 is a Massively Multiplayer Online Role-Playing Game (MMORPG) which is increasingly popular with its NFT (Non-Fungible Token) element.
NFTs are digital assets secured by blockchain technology, providing uniqueness and authentic ownership to their owners. In the context of MIR4, NFTs will provide an exciting new dimension in terms of ownership, trading and gaming experience.
NFT itself will have an impact on the gaming experience and in-game economy due to several factors, including ownership and exclusivity, dynamic in-game economy, collaboration and interaction, as well as creativity and content developers.
It is important to note, the world of gaming continues to develop rapidly and the combination of blockchain and NFT technology with the MMORPG genre like MIR4 provides an interesting example of how technology can change the way we interact with games.
Therefore, it is important for players and gaming enthusiasts to continue to follow MIR4 developments as well as trends and innovations in the gaming industry as a whole.
So, now you understand what the MIR4 NFT game is, how it works, MIR4 gameplay, and a guide on how to download and play MIR4.
Furthermore, you can also read other articles, such as the meaning of PVP in the world of games and NFT and also a list of recommendations for crypto NFT games that can make money at INDODAX Academy.
Come on, continue to update your knowledge about crypto assets and the world of digital assets only at INDODAX Academy.