In the game world, there are several game modes that you need to know about. One of them is PvP, or "Player versus Player". The PVP mode itself refers to the game mode when players interact and compete directly with other players.
Unlike the game elements that are controlled by a computer (artificial intelligence, or AI), In this PvP mode, players fight, compete, or interact with each other, sometimes as a team or as individuals, to achieve certain goals in the game.
Along with developments in the world of technology, NFT games are now also present. The NFT stands for "Non-Fungible Token". NFTs are a type of crypto token that contains information that differentiates and identifies certain digital assets as unique.
In the arts, entertainment, and other creative industries, NFTs are used to represent digital ownership of works of art, music, videos, virtual collections, and other content that has aesthetic or intrinsic value.
In the use of NFTs, the crypto ecosystem is very important because blockchain technology and crypto assets provide the basis for the creation, ownership, and trading of NFTs. Basically, the crypto ecosystem has opened up new opportunities in the digital economy and creative industries.
So, to understand more about what a PVP game is, the difference between it and PVE and PVV, and the list of the best PVP NFT games at the moment, see the following review.
What is PVP in the NFT Game World?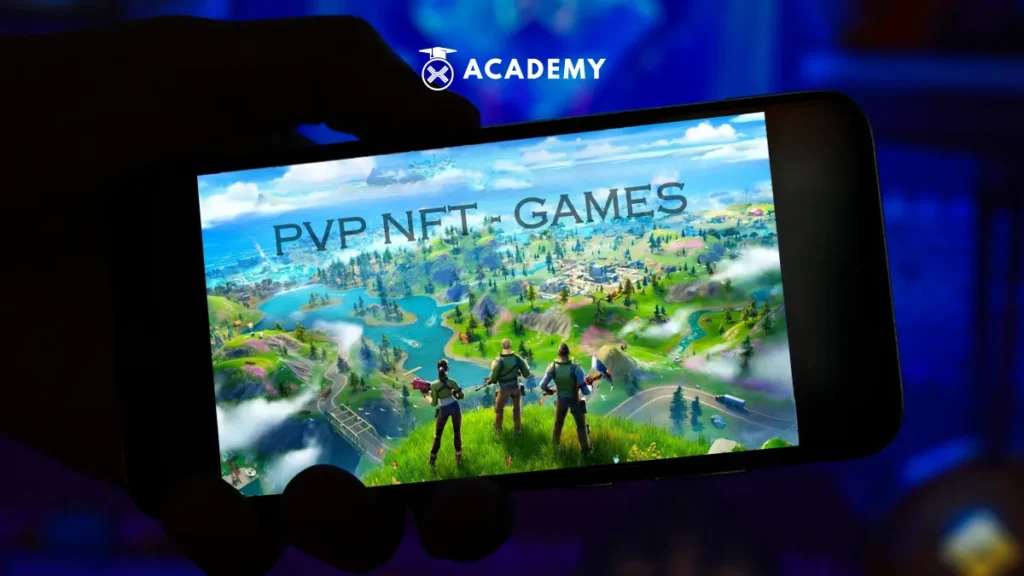 In the context of NFT (non-fungible token) games, PVP, or player versus player, is a game that allows players to interact and compete directly with other players using digital assets represented by NFTs.
In a game environment that uses NFT technology, the concept of PVP remains the same as the PVP mode in conventional games, but there is an added unique dimension provided by unique and possessable digital assets.
In NFT games, every digital asset used in PVP, be it characters, weapons, or other items, will be represented by NFT. Each NFT has unique attributes, skills, or stats that affect performance in battle.
The interesting thing about this type of game is that success in PVP and match results can have an impact on the value of digital assets owned by players. In this case, players can trade their NFTs on the secondary market. Besides that, achievements in PVP can also provide additional value to the NFT.
The Difference Between PVP, PVE Vs PVV
It should be noted that in general, game modes can be grouped into three categories: PVP (player versus player), PVE (player versus environment), and PVV (player versus virtual environment). Of course, these three modes have differences from each other, which are also important to know.
Knowing the differences between PVP, PVE, and PVV will help players and fans of the game understand the kind of experience the different game modes offer.
In the end, they can also choose a game mode that suits their preferences and interests. The following are the differences between PVP, PVE, and PVV that you need to know, including:
PVP
PVP stands for "Player versus Player". As mentioned earlier, this game mode will allow players to interact and compete directly with other players.
In PVP mode, players will fight other players with the aim of winning battles involving interactions with other players. Some examples of games with PVP mode include FPS (first-person shooter), fighting games, MOBA (multiplayer online battle arena), and others.
PVE
PVE stands for "Player versus Environment". This one game mode allows players to interact with the game environment and elements controlled by the computer (AI).
In PVE mode, players will focus on overcoming challenges or missions given by the game, whether defeating monsters, completing puzzles, or achieving certain goals related to the game.
PVV
Finally on this list is PVV, or player versus virtual environment. This game mode is a type of game that allows players to interact with a virtual world environment created by game developers and not by other players. This one mode could involve AI elements, but not in the sense of a challenge like the PVE earlier.
Get to know the 5 Best and Most Popular PVP NFT Games
Among the many PVP games that have existed to date, there are basically a few that stand out and are in great demand, aka often played.
The players who have been involved in several NFT games are known to have gained a unique playing experience and also obtained digital assets from the gaming activities they carried out.
The following is a list of the 5 best and most popular PVP NFT games that you need to know, including:
1. Axie Infinity
The first game on this list is Axie Infinity. Carrying the PVP NFT mode, this one game was inspired by the Pokemon game and then developed on the Ethereum blockchain network.
Later, the players in this game must have several fantasy creatures called Axies. The player's task is to collect, reproduce, and also fight against other players using the Axies they have.
2. Splinterlands
Combining PVP elements with NFT cards, Splinterlands is primarily a digital card game. Here, players will build a deck of cards and then fight against other players in strategic battles.
Each card in this game is an NFT that can be owned by players. Splinterlands also offers a competitive PVP game mode with a focus on strategy and card collection.
3. Gods Unchained
Like Splinterlands, Gods Unchained is also a popular card-themed NFT game. The players in this game will arrange decks, then compete with the aim of beating other players. This game attracts attention because it presents charming advanced features and animations.
4. Battle Racers
Super Mario Kart and F-Zero are some of the games that inspired the birth of the PVP NFT Battle Racers game. Combining different weapons and parts, players in this game compete to design the strongest car.
In this game, the player can combine different parts and weapons, and thus, the player will gain an advantage on the arcade tracks. Players can also register winning cars on the blockchain as NFTs. The car can then be sold on the OpenSea platform.
5. The Sandbox
Finally on this list is one of the more familiar NFT games, namely The Sandbox. This metaverse game is based on 3D pixels, or voxels. The Sandbox itself has been a very active NFT game platform to date.
Here, players can build and trade virtual assets. Like Minecraft and Roblox, in The Sandbox players can manipulate and monetize voxel assets.
Please note that The Sandbox uses ERC-20 tokens, which are the original metaverse tokens. Therefore, players can buy items in this game on the market platform. Then, there is also LAND as an NFT token, and until now, it has become the most valuable and sought-after asset in one of the most popular PVP NFT games.
Conclusion
In conclusion, the relationship between PvP (player versus player) in the game world and NFT (non-fungible token) has a significant impact on how players interact with game content and the virtual economy. That's because the combination of PvP and NFT creates a unique ecosystem and empowers both players and content creators.
By linking PvP with NFT, for example, players have more control over their digital assets. They can later own, trade, and use unique assets earned through winning in PvP battles, bringing a deeper sense of ownership to the gaming experience.
On the other hand, the combination of PvP and NFT has the potential for exciting developments that could shape the future of gaming and the digital economy. Among the ways are through diversifying NFT collections, NFT-based tournaments and competitions, customization and creativity, combinations with other features, and increasing NFT values through PVP wins.
Ultimately, by further developing and integrating the NFT concept in a PVP context, developers can embrace the potential for innovation and create a more engaging, dynamic, and rewarding gaming experience for players.
So, now you understand what a PVP game is, the difference between PVE and PVV, and the list of the best PVP NFT games at the moment.
Furthermore, you can also read articles about NFT art only at INDODAX Academy. For information, at INDODAX Academy, you can get information regarding crypto assets, blockchain, and others.
Come on, start learning about the world of digital assets only at INDODAX Academy!