In today's digital era, several terms have become popular among internet users, including PFP.
The meaning of PFP itself is Picture For Proof. This term was originally used to ask for photo evidence among fellow internet users. However, since the emergence of social media, the term PFP also refers to the acronym "Profile Picture."
Along with the digital world's development, there is now a "new generation" of PFP, namely Non-Fungible Token (NFT) based PFT.
So, to understand PFP, the definition and development of PFP NFT, and how to buy and sell it, see the following review.
What is PFP?

As mentioned at the beginning of the article, PFP initially meant Picture For Proof, but then the meaning shifted to Profile Picture of the social media hype.
If, at first, PFP referred to photo evidence among fellow internet users, now the term refers to the representation of a person as an internet user. That is, PFP is the identity of a virtual world user, aka a digital version of someone who also lives in the real world.
Therefore, it is not surprising that cyberspace users will choose PFP that is related to them.
Then, a PFP will appear with a self-portrait of an internet user. In addition, some use other images to create anonymity alias anonymous.
Even so, this picture of an anonymous person is usually still related to personality, hobbies/interests, and real identity. For example, PFP photos of Korean idols on a Twitter account belonging to a fangirl/fanboy or other unique PFP images.
PFP Development History
Today, PFP has been used by anyone active on social media. This is inseparable from the rapid development of the digital industry worldwide, including in the social media sector.
Not surprisingly, account owners and users of social media platforms such as Instagram, Facebook, Twitter, and TikTok will display PFP.
However, PFP is not just showing someone's real profile photo because, with internet anonymity, people will post other pictures, ranging from memes to anime.
In its development, PFP can now be made using Artificial Intelligence (AI) technology, including the PFPmaker platform.
Even further, currently, a PFP can be utilized as a financial commodity, namely the PFP NFT. In addition, this new version of PFP can also be used as a choice of investment instruments.
What is PFP NFT?
As mentioned earlier, NFT stands for Non-Fungible Token. Therefore, PFP NFT can be interpreted as a PFP that utilizes NFT to be used as an image/avatar of the owner.
The presence of the PFP NFT itself occurred in 2017, which was marked by the birth of the CryptoPunks NFT project. The emergence of the CryptoPunks project then inspired many internet users to use the NFT character collection to describe their avatars.
As for now, PFP and NFT also have an increasingly close relationship since Twitter introduced a verification feature to check the authenticity of the NFT profile used by users.
Trend of Using NFT as PFP
In line with the popularity and use of blockchain technology, the trend of using NFT or Non-Fungible Tokens as PFP is also growing. For the owners, using this NFT as a PFP will provide digital uniqueness and ownership.
There are several recent trends in the use of NFTs as PFPs, including special and limited collections. For example, collections from the CryptoPunks NFT project, Bored Ape Yacht Club, etc.
Besides that, another trend of using NFTs as PFPs can be found in customizing user profile pictures as PFPs. In this case, users can adjust facial expressions, clothing, hair color, and other accessories on their PFP NFT.
Current Popular PFP NFT Examples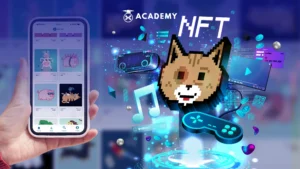 As previously explained, the PFP NFT will represent the profile of an internet user in the form of a Non-Fungible Token.
In the world of crypto assets and blockchain technology, PFP NFT has also become a massive and popular trend. Therefore, knowing the currently popular PFP NFT examples as references is important.
Here are examples of currently popular PFP NFTs in the crypto community worth knowing about, among others:
1. Bored Ape Yacht Club
The first PFP NFT on this list is Bored Ape Yacht Club or BAYC. The emergence of this NFT project is also known to have succeeded in rivaling the popularity of CryptoPunks.
The Bored Ape Yacht Club project is also under the auspices of the Yuga Labs company, which oversees the CryptoPunks project. The visual form of the Bored Ape NFT collection is the avatar character of an ape (ape ) with 10,000 NFTs, each with its uniqueness.
Since it started in 2021, the BAYC project has received hype after several world artists, from Justin Bieber to Madonna, joined to collect this monkey avatar character.
2. CryptoPunks
In the second position is the pioneer/pioneer of the trend and the NFT project as PFP, namely the CryptoPunks project. This project includes 10,000 uniquely stylized "alien" avatars often used as PFPs by internet users.
Like BAYC, this project is also under the auspices of Yuga Labs and designed by John Watkinson and Matt Hall.
3. Cool Cats
For cat lovers who want to try cat PFP NFT, of course, this one NFT project will attract attention, namely Cool Cats. The cat NFT presented by this project is also unique and funny to use as a social media PFP.
The Cool Cats project itself is an NFT based on a pet game. Starting to be marketed in July 2021, this project has a collection of approximately 9,999 NFTs.
4. Duck Soup
Initiated by an artist named Franky Nines, who is also the head of the MegaVolt Corp company, the Soup Ducks project was launched in July 2021. For your information, Nines was previously a designer working for Dapper Labs, Zynga, and NFT 42.
The PFP NFT collection from Sup Ducks includes as many as 10,000 duck-character NFT assets with various forms of expression and style.
5. Meebits
Under the leadership of Larva Labs, Meebits is an NFT project with a voxel-formatted collection of 20,000 NFT assets. The NFT form is in the form of a 3D model avatar. One PFP NFT can be found easily on the Ethereum-based NFT marketplace, for example, OpenSea.
The uniqueness of NFT Meebits lies in its avatar that can move like a person dancing, so many people are interested in collecting this one NFT.
Where Can You Buy and Sell PFP NFTs?
The recent trend of using the NFT collection as a large PFP has made many people interested in getting it too. As discussed earlier, the PFP NFT's popularity occurred after the CyptoPunks NFT collection project, Bored Ape Yacht Club and others emerged.
So, where can you buy and sell PFP NFTs? Here are some platforms that you can try, including:
1. Open Sea
OpenSea is the most popular NFT marketplace in the world. The world's largest NFT platform also presents a variety of digital artwork, games, and even rare collections that are converted into NFTs.
The diversity of works it presents is also an advantage of OpenSea compared to other NFT marketplaces.
The works of art presented on this platform are pictures, illustrations, games, virtual objects, and animations.
Furthermore, OpenSea is also easy to use and can be used to sell, buy, and create personal NFT works. You can read how to sell NFTs on OpenSea to sell quickly in this article.
2. SuperRare
The next NFT marketplace is SuperRare. The NFT collection included is exclusive and focuses on high-priced digital art.
SuperRare also provides a stage for selected digital artists and presents a limited collection of works of art. Thus, the exclusive value of a work will be higher. This also attracts collectors who are looking for rare digital works of art.
It should also be noted that SuperRare also presents a tokenized ownership feature that allows NFT owners to make a profit if the artwork is resold in the future.
3. Rible
Next on this list is the Rarible NFT marketplace. Based on Ethereum, this platform provides a place for users to sell, buy, and make NFTs.
This marketplace has a unique do-it-yourself feature. This feature allows anyone to design their own NFT, even with little technical knowledge of NFTs.
That way, artists and creators will have more opportunities to quickly upload and monetize their work.
Not only that, this NFT marketplace also features social features so that users can interact with collectors and other artists.
Conclusion
In conclusion, PFP NFT can be interpreted as a PFP that utilizes NFT to be used as an image/avatar of the owner.
In line with the popularity and use of blockchain technology, the trend of using NFT or Non-Fungible Tokens as PFP is also growing.
For the owners, using this NFT as a PFP will provide digital uniqueness and ownership.
Summary of PFP NFT and the trend of its use NFT can be used for investment purposes; however, like other types of investment, it requires in-depth research.
Please note NFT can also be used for investment money/interest purposes. This means that NFTs can be an investment instrument that can be considered, for example, for art enthusiasts and others. However, like other types of investment, investment in NFTs also requires in-depth research.
It also requires a good understanding of market conditions because the NFT investment will continue to grow along with developments in the digital world.
So, now you know what PFP is, how to use PFP NFT, and how to buy and sell it on the NFT marketplace.
Furthermore, you can also read other interesting articles, such as NFT Azuki and NFT art finance, only at INDODAX Academy.