One of the terms you are familiar with for digital and crypto asset lovers is MetaMask. This term is closely related to using crypto wallets (crypto wallets), which offer services for storing crypto assets.
Metamask is a crypto wallet application integrated with a web browser that allows users to store, send and receive various crypto assets directly through their browser.
MetaMask has also become one of the blockchain ecosystem's most popular and used tools. That's because of its ease of use and integration with various decentralized applications (dApps).
So, to better understand what metamask is, how it works, the main components, how to use it, and the transaction fees, see the following review.
What is MetaMask?
MetaMask is a popular browser extension, a crypto wallet connected to the Ethereum blockchain network. MetaMask helps users interact with the Ethereum ecosystem, which collects various decentralized applications or dApps without first downloading all the blockchains on their device.
That means MetaMask is one of the best Ethereum wallet solutions for easy access to decentralized exchanges (DEXs), gaming platforms, and many more applications. MetaMask is compatible with the most widely adopted browsers, including Google Chrome, Firefox, Brave, and Microsoft Edge.
Furthermore, besides storing Ethereum (ETH) token assets, MetaMask can also collect tokens built on the ERC-20 and ERC-721 protocol standards. Historically, MetaMask was founded by Aaron Davis and ConsenSys, a blockchain company.
In creating its wallet in 2016 and last September 2020, MetaMask acquired 400,000 users. Now, they have reached 1 million monthly active users. As of 2019, this Ethereum online wallet is only available as a desktop browser plugin for Firefox and Chrome. Then, in September 2020, ConsenSys finally released the first official MetaMask mobile application for mobile devices supported by Android and iOS.
Based on an independent audit from a security company, namely Least Authority, MetaMask provides the best features and functionality related to security and design. The features that make it the best Ethereum wallet are its powerful encryption technology and secure storing of passwords and private keys on every user's device.
It also allows users to connect multiple wallets and switch between the Ethereum main network, the leading trial network, and even the main Network.
What is MetaMask Wallet?
Apart from MetaMask, there is also the Mwt MetaMask wallet, a browser plugin that functions as a free crypto-wallet based on the Ethereum network. Besides being a browser plugin, the MetaMask wallet can also be used via Android and iOS-based devices.
The MetaMask wallet will help users store various crypto asset tokens and other ERC20 tokens. This can provide efficiency for its users to transact to any Ethereum address.
Users connected to decentralized applications (Dapps) and several NFT marketplaces will easily carry out various types of transactions, from peer-to-peer crypto asset transactions, purchasing NFTs, and saving profits earned from NFT-based games to joining metaverse-based platforms.
Therefore, the main difference between MetaMask Wallet (browser plugin) and MetaMask is that MetaMask Wallet is an early version of a browser extension that functions as a crypto wallet in a web browser. At the same time, MetaMask includes a browser extension and a mobile application for managing crypto assets on mobile devices.
How MetaMask Works
After knowing what MetaMask is, the MetaMask wallet, and its differences, it's time to find out how Metamask works. In the process, MetaMask will interact with the Ethereum blockchain network via a web browser. The following are the points of explanation, namely:
1. MetaMask Installation and Configuration
In the first step, the user will install the MetaMask extension on his web browser, which can be Google Chrome or Mozilla Firefox. Once installed, users will configure MetaMask by generating a password to secure the wallet.
2. Connection to the Ethereum Network
If MetaMask has been installed and configured, the user must be connected to the Ethereum blockchain network.
3. Using dApps and Websites
Once MetaMask is connected to the Ethereum network, users can access various dApps and websites integrated with MetaMask.
4. Authentication and Transactions
When the user wants to conduct transactions or interact with dApps, MetaMask will provide a pop-up allowing users to approve.
5. Verification and Signature
After the user consents, MetaMask will ask them to verify the transaction and sign it using their private key.
6. Transactions are sent to the Network
Once the transaction is signed, MetaMask sends the transaction to the Ethereum network via the connected nodes.
7. Transaction Confirmation
Users can view the transactions submitted in the MetaMask pop-up window. They can also check the status of transactions on the blockchain network through block explorers such as Etherscan.
Main Components of MetaMask
There are 2 (two) main components of the MetaMask wallet that are important to know, namely:
1. Identification of Public Addresses
MetaMask wallet is a public address that can be shared freely with people/platforms, such as exchanges, to receive crypto to the user's crypto wallet. However, to receive crypto assets, ensure they are compatible with MetaMask otherwise, they may be lost forever.
To find the public address, users can click on the "Account 1" button, while to copy that address, users just need to click on the layered box icon located right below it.
2. ETH Deposit, Buy and Send Assets
The main function of MetaMask is to deposit ETH and buy and send various crypto assets. Thus, to initiate transactions with any Ethereum platform, users must first deposit a certain amount of ETH.
The deposit amount is adjusted to the funds the user needs to make transactions on several platforms. Furthermore, by clicking the "Buy" button, the user will be directed to the tab where to buy ETH using Wyre/CoinSwitch by using a debit card/exchanging it with other crypto tokens owned.
After successfully buying ETH, users can send their crypto assets from MetaMask to other wallets by entering the recipient's public address in the box provided and specifying the amount, including the gas fee.
How to use Metamask?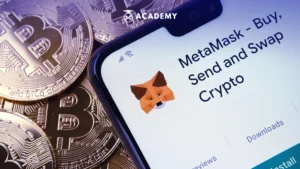 What is MetaMask Wallet? Know How To Use & Cost
After knowing the main components of MetaMask, it is also important to learn how to use MetaMask. The following is a guide on how to use MetaMask for beginners that you need to know, namely:
1. Installing the App
First, users can install the MetaMask wallet application on the desired device by logging into the official website. If using a browser, this application is compatible with Google Chrome, Firefox, Edge, and Brave. For smartphones, the application can be used on almost all types of Android/iOS.
2. Create a New Account
Next, the user will be prompted to create a new wallet account/import an existing wallet into the application. If you want to create a new wallet, several manufacturing processes must be passed and agreed to the terms and conditions of service.
3. Save Secret Recovery Phrases
Finally, the account has been successfully created. In that case, you must create a secret recovery phrase that functions as a backup when you lose the device installed by the MetaMask application.
Thus, when that happens, the MetaMask account can be restored, and you can access it without facing the risk of losing the assets stored in it.
Metamask vs. Trust Wallet
Apart from MetaMask, other wallets are compatible with the Ethereum blockchain, namely Trust Wallet. The Trust Wallet has several fundamental differences with MetaMask.
MetaMask is a browser-based and mobile wallet, while Trust Wallet is available only on a mobile. On top of that, Trust Wallet also supports more than just Ethereum and its assets. Users can store more digital assets, including ETH and Bitcoin (BTC).
Meanwhile, another function of Trust Wallet is the ability to buy Bitcoin, earn interest on funds deposited, interact with the NFT ecosystem, track crypto prices, and become a crypto asset exchange.
It should also be noted there are several considerations for choosing a wallet that suits user preferences, including taking into account the platform, the availability of the blockchain network, security, and additional functionality to the user interface.
Ultimately, the choice between MetaMask and Trust Wallet comes down to individual preference and how the user plans to use the crypto wallet. Also, do in-depth research and test the wallet before making a decision.
Transaction Fees on MetaMask
It is also important to note that transactions with the MetaMask wallet will incur a gas fee (ga fees). In each transaction, MetaMask has provided a default gas fee according to the status of the Ethereum network.
That's not all; users also have the option to change the gas fee and gas limit in the advanced tab to adjust to the available parameters. The difference between the gas fee and the limit indicates that the gas fee is a fee for processing transactions.
Meanwhile, the gas limit is the highest transaction fee users are willing to pay. Note that transaction fees can also determine the speed of processing transactions on the Ethereum blockchain. Here, the more expensive the price, the faster the transaction confirmation time will be, and vice versa.
It should be underlined on the MetaMask platform itself that gas fee options are categorized into three types: fastest, fast, and slow, each with a different price.
Conclusion
In conclusion, MetaMask has become one of the most important tools in the crypto ecosystem, especially on the Ethereum blockchain network. This is because MetaMask grants access to dApps, provides convenience and accessibility, functions as a secure crypto wallet, and more.
Meanwhile, the MetaMask wallet, a popular crypto wallet in the Ethereum ecosystem, has several benefits, including ease of use, browser integration, support for many dApps, convenience in mobile access, and a broad user experience.
Are You Interested in Investing in Crypto Assets?
So, now you know what MetaMask is, how it works, the main components, how to use it, and the transaction fees.
Furthermore, for those interested in investing in crypto assets, you can do it in the best crypto trading application, INDODAX.
For those of you who are also interested in investing in crypto assets like Ethereum, it's a good idea to check the Ethereum price today on the INDODAX Market before buying it.
As additional information, apart from ETH crypto assets, you can also invest in other crypto assets, starting from Bitcoin to various types of the most popular crypto assets today.