Futures trading is a term that may still need to be familiar to the public, especially those who do not work in the financial sector.
The term futures or futures contract is found in derivative financial instruments.
So, what is the meaning of futures trading, and how to do it? To find out, see the full review below!
What is Futures Trading?
As a derivative financial instrument, futures consist of buying/selling certain commodities/financial instrument assets between two parties at an agreed price and a future delivery agreement.
Meanwhile, futures trading is a derivative transaction with a margin system.
As is well known, people generally have more confidence in real types of investments, such as property, because they can be seen physically, and the benefits can be estimated.
However, it is also important to know that gold, stocks, and various other sectors in the world of futures trading, including crypto assets, are no less profitable.
This can be seen from the increasing number of digital platforms and applications that provide facilities for purchasing gold, stocks, mutual funds, and other futures contract financial instruments at a relatively low value.
As a result, many beginners from the younger generation are starting to invest in the future through this facility.
With the advancement of technology, more and more people are starting to open themselves up to trade on futures exchanges.
This futures trading investment is perfect for investors who want to protect their assets in the market and benefit from fluctuations in commodity prices.
However, it should be noted that even though it looks attractive, this futures contract is unsuitable for all investors because the level of risk is quite high.
Advantages of Futures Trading
Then what are the advantages of futures trading? Here are some of them:
1. You can start with small capital
When starting a business, people need a large initial capital/fund.
This does not apply to futures trading. The reason is in this type of investment, the funds needed are relatively minimal.
These funds are needed to open an account before entering a long-term trading process.
2. Flexible
Unlike working/business in a company, futures trading is more flexible because it can be done anywhere and anytime.
Even office workers are free to do so. So, these investors can adjust their trading schedule without disturbing their daily activities.
3. Can be done alone
What's interesting about futures trading is that you can make this investment alone as an investor.
However, it is also important to ensure that your knowledge regarding this investment is sufficient so you don't take the wrong step.
Types and Characteristics of Futures Trading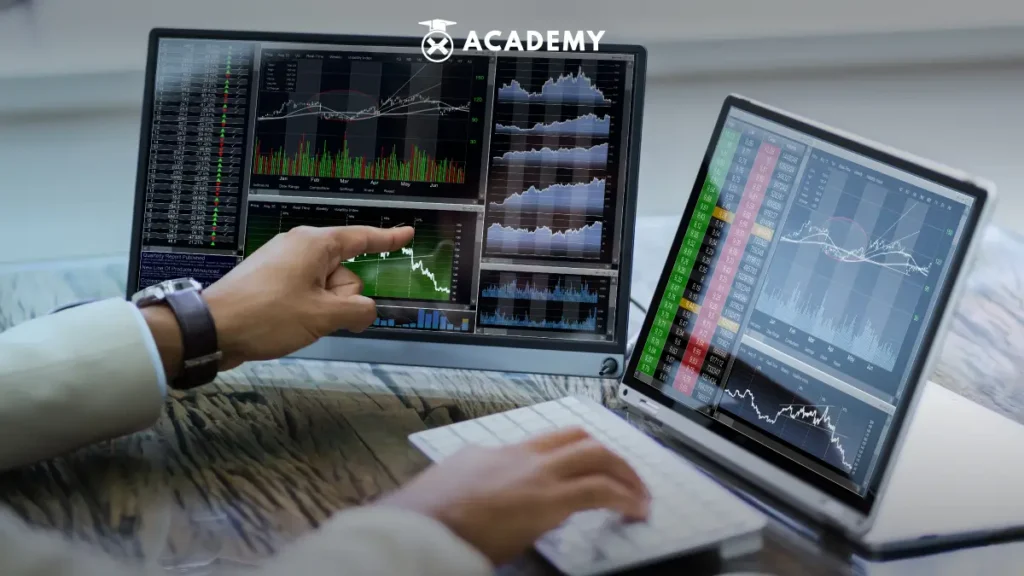 In this type of futures trading investment, the goods being traded have two characteristics.
It should also be noted no arbitrary goods can be sold in futures trading.
The reason is there are special criteria to enter this one investment market.
The characteristics of the goods sold in futures trading are usually divided into commodity futures and financial futures.
The commodity futures or commodities are further divided into three types, and for the following review:
1. Agri commodities
Agri commodities consist of agricultural processed products, ranging from grains (soybeans, wheat, corn, and others) to other forms such as coffee beans, cocoa, cotton, and sugar.
2. Metal commodities
Metal commodities are divided into 2, namely precious metals (silver and gold) and industrial metals (iron and copper).
3. Energy commodities
Energy commodities are natural products, including oil and gas, which are important for the world.
This one commodity has an equally important position in raw and processed form.
How Futures Trading Works
In futures trading, there are three main components, namely:
Buyers and sellers;
Contract expiration date; And
Agreed price.
Here, the buyer and seller can close trading positions before expiration. Still, the selling and buying prices must remain the same as the value agreed in the contract, excluding changes in the asset price on the expiration date.
If the buyer/seller needs money/does not want to continue the transaction at the agreed price, they can sell the contract back to the futures market/exchange.
Then, the exchange will determine whether or not the transaction requires the delivery of physical goods.
You must open an account at a legal commodity futures brokerage company to trade this derivative instrument.
Usually, futures trading requires high leverage, so you must ensure you have chosen the right brokerage company.
It should also be noted that futures trading in Indonesia is regulated and supervised by the Commodity Futures Trading Regulatory Agency or CoFTRA.
Futures Trading Method
Regarding the futures trading method, many novice investors/traders are misguided by applying various methods simultaneously in pursuit of big profits.
Investors/traders can choose one of the available methods as the best method.
Here are some futures trading methods that you need to know, including:
1. Moving average crossovers
In this method, you will trade in two places, which are called moving averages (MA), in long-term trading.
Then, choose colors that are not uniform to facilitate research which is the more promising of the two (MA).
2. Bollinger bands
Bollinger bands are volatility measuring tape that is a reference/measure for price monitoring.
Ribbons are usually built right into the MT4 trading platform. So, the next step is that you need to monitor the movement.
3. Heiken ashi subwindow
This method makes it easier to check price reversals, from bullish to bearish or vice versa.
Its simple appearance makes it easy to read so traders can make the most of the heiken ashi subwindow.
Tips for Safely Trading Futures
The following are some tips for safe futures trading that you need to apply, namely:
1. Decide on a trading style
The trading style must also be aligned with the trader's characteristics and goals for long-term trading.
You can choose one-day trading or swing trading when you have analyzed the advantages of each.
2. Find a suitable broker
The recent high interest in long-term trading has made brokerage firms more and more numerous.
The next tip regarding this is that you have to determine a company or find a suitable broker, including taking into account the profile of the company you will choose.
3. Learn trading methods
Next, you also have to learn this long-term trading method.
The types of methods in futures trading also vary. So, you have to study all of them and find the one that suits you best.
If you have found the best, take advantage of that opportunity to gain as much profit as possible from the market.
4. Analyze at the right time
If you don't know, analysis is a challenging thing to do.
Therefore, you are strongly advised to update your knowledge in various ways and sources.
If knowledge has been obtained, keep updating the latest information so your reference as a trader will continue to increase.
5. Use cold money
Using cold money means that when investing in futures trading, you won't feel left out when the worst happens at a later date.
Therefore, using something other than your basic needs funds for futures trading is a good idea because it can lead to more significant potential losses.
Futures Trading Disclaimer
You should note that futures trading can involve substantial risk and is unsuitable for all investors.
Because past performance does not guarantee future results, the information presented here is only for educational and informational purposes. It should not be construed as investment advice or endorsement of any particular futures contract or trading strategy.
Futures trading can result in significant losses, even exceeding the initial margin requirements.
Therefore, you should consider whether futures trading suits your investments, considering your investment objectives, financial resources, and risk tolerance.
There are also unique risks associated with futures trading, including the potential for volatility, leverage, and contrarian risks. These risks must be fully understood before trading futures.
Conclusion:
Futures are derivative financial instruments whose content is the purchase/sale of certain financial instrument commodities/assets between two parties at an agreed price and a future delivery agreement.
The advantages of futures trading include starting with small capital, being flexible, and being able to do it yourself.
The types and characteristics are divided into 2, namely commodity futures and financial futures.
In futures trading, there are three main components: buyers and sellers, contract expiration date, and the agreed price.
How, now, do you understand what futures trading is and how to do it?
To find trading patterns and technical analysis related to trading, you can also read other interesting articles, such as how to invest in safe bitcoin for beginners and various terms in crypto trading only at INDODAX Academy.
Come on, start investing right now!