MOBOX is one of the exciting games that can also earn (play-to-earn) through Non-Fungible Tokens or NFTs.
No doubt, this game began to gain popularity and attracted many players. One of the exciting things about MOBOX is the large selection of games it offers.
So, to learn more about MOBOX games and how to play them, see the review below.
What are MOBOX Games?
Being on the BSC network, the MOBOX game is an NFT game that combines yield farming with a metaverse called Momoverse.
It can be a way to earn passive income. This game is the same as other NFT games that combine game mechanics, NFT, and Decentralized Finance (DeFi) in one game ecosystem.
Here, players can devise various strategies to optimize the results obtained in the game so that later they will get a unique NFT.
However, what makes this game very interesting is that MOBOX has the ability for staking and NFT mining.
Related to that, players only need to buy MOBO, a cute NFT, which will later be used for this game's mining and staking process.
Later, the owner of the asset will receive income from the NFT. In other words, without the need to play the owned NFT, a player can reap benefits in the form of the platform's original token, the MBOX token, simply by saving the NFT.
Please note the popularity of this game has captured at least 150,000 players to date.
For information, this game can be broken down into three parts: as follows.
1. NFT Marketplace
This decentralized Marketplace is the location for trading, lending, and renting NFTs in the MOBOX metaverse by users.
Here, there is an option to buy the NFT with the bundle and trade the asset without stopping farming.
2. Blockchain Gaming Platforms
This place serves to play blockchain games from indie developers in the MOBOX game ecosystem.
To note, a user can play three free-to-play-to-earn (FTPTE) games which reward users for their involvement and active participation.
3. MOMO Farmer
This is an essential solution in the ecosystem that MOBOX is known for. Being the yield farming center of the MOBOX metaverse, here you can stake native MBOX tokens and other cryptos.
Not only that, but you can also supply liquidity to liquidity to earn NFTs and prizes.
Who is the Founder of MOBOX?
Based on the information on the website, MOBOX was developed by a team of more than 30 people.
The founders have "extensive experience developing and operating a world-renowned social gaming platform."
However, no clear information was found regarding the figures of the founders in question.
In addition, there was no explanation about the "extensive experience" of the team members.
Please note the MOBOX project began development at the end of 2020. Then, in April 2020, this game was officially launched.
What Games Are on MOBOX?
You need to know about the following games that can be played on MOBOX.
1. ChainZ Arena
This is a cross-blockchain game, be it ETH, TRON, or EOS, and a cross-platform idle RPG game.
Officially launched on April 24, 2020, this game is also available with a special MOBOX edition.
2. Momoverse
This cross-platform metaverse can be enjoyed across devices wherever players are.
Momoverse will also reward players, developers, and collectors for their involvement and enjoyment, whether creating content or enjoying the creations of others.
3. NFT Farmers
NFT Farmer is a rewarding venue for players holding MBOX and BNB, which provides liquidity to the platform.
Players will later receive veMBOX when providing liquidity. The veMBOX can be used to win the weekly lottery.
4. Moland Defense
It is still new to MOBOX. This game is still in the development stage. The concept of the game is in the form of a tower game.
5. Master Tokens
With the concept of team battle, in this game, the players will form 3 MOMO teams. For the winning team, coins are available as a reward.
6. Trade Auctions
There are three different TradeAction gameplays, from SimpleTrade, and LeverageMania, to Bull vs. Bear.
SimpleTrade is a set of tokens that players can trade using simulation tools.
Related to that, players will have a leaderboard. The ranking on the leaderboard is determined by the amount earned by the users during the competition.
Meanwhile, LeverageMania has a concept such as trading using the leverage of up to 100 times.
On the other hand, Bull vs. Bear is a guesswork game. Here, players will guess whether the market will be bullish or bearish. If the guess is correct, then the player will get points.
7. Block Brawler
In this one vs. one fighting game, players can choose a character who will later face the opponent's character.
How to Play MOBOX?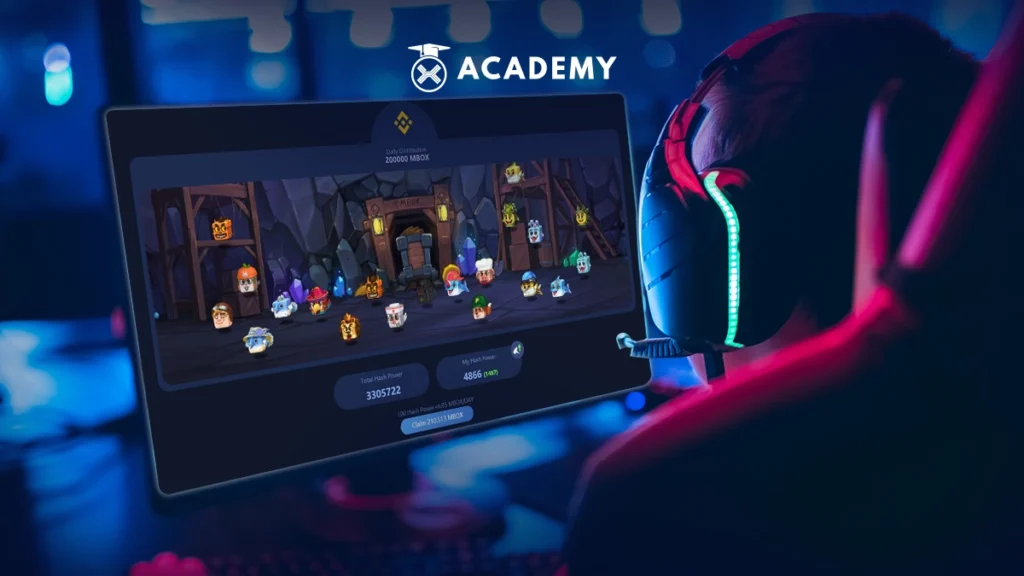 So, how does MOBOX work?
You must first understand crypto wallets that can be used as crypto and NFT storage.
One of the wallets that can be used in this game is Metamask.
Then, you can download MOBOX, both on Playstore and Appstore, or you can also directly access it via the website.
Here, ensure that the wallet/wallet has stablecoins that can be included in the liquidity provided by MOBOX via the Create contract.
Please note, Create is a type of yield farming that can provide prizes according to the number of assets successfully obtained.
So, the prizes generated from the tokens given in the LP can be used to open mystery boxes with MOMO (NFT) in them. MOMO itself has many variations.
The NFT can be used to play games and staked automatically on the platform, where the original MOBOX token is mined.
Later, the NFT you get will affect the player's income.
In this case, the more unique and rare the NFT, the greater the profit.
How to Get Money from MOBOX?
As a governance token on MOBOX, MBOX entitles its holder to submit and vote on project-related proposals.
Here, everyone who has a MOBOX will help decide their future. The MBOX tokens can also be traded, staked, or farmed.
This token can later generate money when it is withdrawn and exchanged for fiat currency.
Conclusion
Having recently gained popularity, MOBOX is a game with a play-to-earn concept via NFT.
Even more interesting about this game is that it also provides NFT staking and mining features.
Running on the BSC network, there are several games offered by MOBOX, starting from ChainZArena, Momoverse, NFT Farmer, MOland Defense, Token Master, Trade Auction, and Block Brawler.
Apart from the games on MOBOX, there are many other NFT games that you can try, from free NFT games to cool NFT games that can provide benefits.
So, to find out more information, you can read it at Indodax Academy.