In crypto investment, the term cloud mining and Bitcoin mining is done to collect Bitcoins. But there is also the term mining farm, which most people misinterpret as cloud mining.
Those of you who are still beginners in the crypto investment field must know the differences between the two.
It also includes advantages and disadvantages, so you can take the right step when you want to take the strategy.
What are Mining Farm and Cloud Mining?
The definition of a mining farm is quite clear according to the terms used, namely fields for mining cryptocurrency. One of the most famous cryptocurrencies to date is Bitcoin.
The intended field or container differs from fields in general because it is a warehouse carried out by more than one person. It takes considerable energy and computing power to run it.
Even the required power can reach 1000 kilowatts, meaning that large resources are needed to run this mining farm. Maintenance must also be done extra and periodically.
While the notion of cloud mining means the activity of mining crypto assets. This is where the activities you will do to collect crypto as part of the investment.
Unlike a mining farm, in cloud mining, you can rent hardware and pay the service provider to be able to mining. Even now can also use the mobile application.
How Mining Farm and Cloud Mining Work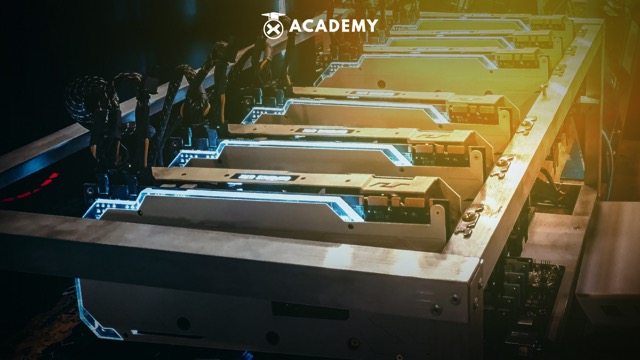 Based on its understanding, a mining farm consists of a collection of computers with high data for the mining process. The way it works itself is by adding blocks on the blockchain.
To start mining, you have to solve math problems that are quite complicated. You can get incentive prizes when successfully breaking the block will increase.
It should also be noted that in the mining farm, the availability of Bitcoin is 21 million, which can be used for transactions.
Meanwhile, cloud mining is much simpler because you don't need a sophisticated computing system.
You only need to choose a service and which crypto you want to add.
Registration and payment are needed to verify the transaction that will be carried out later.
Only after having an account for trading can you start mining. To be safe, you must use a password in the account.
Only needing a simple device makes this cloud mining suitable for beginners.
Advantages and Disadvantages of Mining Farm and Cloud Mining
Each of these mining methods has its advantages and disadvantages. You have to know these advantages and disadvantages to be more precise in choosing.
Advantages of Mining Farms
The main thing that stands out from the advantages of mining farms is getting crypto assets much faster and in large quantities. Those of you who want to be able to invest within a fast timeframe can rely on it.
Disadvantages of Mining Farms
In contrast to simple cloud mining, mining farms are more power intensive. Power and maintenance requirements need extra attention.
In addition, the capital required is also more significant because it requires sophisticated equipment.
Advantages of Cloud Mining
The only advantage of cloud mining with this system is that the capital is manageable. Considering you can do it with a simple device.
In addition, it can be done anywhere in the house or other places. Plus there is not much noise from the engine.
Disadvantages of Cloud Mining
Even though it's easy to do cloud mining, some risks must be considered. First, the service provider still needs to be clarified about the mining location.
Second, until now, there are many scam cases from cloud mining that you have to watch out for. So it takes precision to find a service provider.
Factors to Consider in Choosing Between Mining Farm or Cloud Mining
To make your mining farm or cloud mining your choice, there are several factors that you must pay attention to first.
Refrain from letting, after choosing one, you are disappointed because it is not by your wishes or abilities.
1. Capital and Operational Costs
It would help if you had the equipment and large amounts of electricity to run a mining farm. Of course, the capital required is also large.
Likewise, extra care is needed with operations because all devices need cooling.
In cloud mining, you may need a simple device in the form of a computer. But it also needs high power.
However, when compared, cloud mining still requires much lower capital. You also don't need to prepare a warehouse specifically.
2. What is the Expected Income
The main determining factor is how much take profit you want from mining activities. Given the relatively large capital, mining farms can also produce higher assets.
In just 10 minutes, you can lock in profits from Bitcoin assets. But it also has to be on, along with a powerful engine in mining.
In contrast to cloud mining, where the income will not be the same in 10 minutes. Cloud mining takes longer to produce assets comparable to mining farms.
3. Skills in Managing Hardware and Software
Done manually, especially for mining farms, you need to have the ability to manage hardware. So it's more than programming skills to add Bitcoin.
The goal is to facilitate the maintenance of devices that are widely used. Not to mention that you have to adjust the power and the cooling system to work properly.
As for cloud mining, you must have a membership in the mining pool. So when compared to cloud mining, it requires more ability to understand the system because the only hardware used is a computer.
For example, when the price drops, you use a trailing stop to maximize your profit. You can choose a trailing stop and lock in profits and avoid losses.
If you don't understand, you can learn how to install a trailing stop properly first. This step can also minimize the risk of loss.
4. Risk Level that can be overcome
Both mining farm and cloud mining have their level of risk.
Those who use one of them must know how far the risk can be overcome; the goal is to minimize losses.
The clearest example is in cloud mining using a trailing stop. Whereas in mining farms, the highest risk is in the use of tools.
When sophisticated equipment is used, access can take longer, and the benefits will increase.
5. Availability of Hardware and Services in Residential Areas
Hardware is a benchmark for the success of mining farms and cloud mining. You can also buy assets when providers for cloud mining provide the best service.
So it would help if you first determined what hardware is available and what cloud mining services are good.
Only after that can you follow price movements to buy or sell and keep abreast of crypto market prices so you can take advantage of it.
Conclusion
The definition of a mining farm is a field for mining cryptocurrency, while cloud mining means an activity to mining crypto assets.
Mining farms and cloud mining work themselves by adding blocks to the blockchain.
Each mining method has advantages and disadvantages; the most prominent advantage is getting crypto assets much faster and more.
For the drawbacks, you need sophisticated equipment, so the capital required is also greater.
It would help to consider which mining farm or cloud mining is the best. There isn't a definite answer. You can choose it based on the five factors that must be considered.
Therefore, always be careful when choosing and see the advantages and disadvantages.
It is also important to do thorough research and analysis before mining.
You can also read other interesting articles, such as how to mining Litecoin, mining rigs, and minting to ASIC miners, and hopefully, this article can be useful.