One strategy often used by traders in the trading world is swing trading.
This one trading strategy has a more flexible time, and the period is between several days to weeks.
However, professional investors usually carry out swing trading, used for investing in high-risk, high returns.
So, to find out more about what is meant by swing trading and how to do it, let's look at the following review.
What is Swing Trading?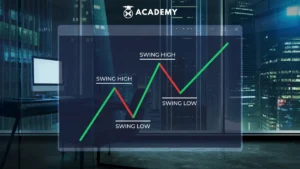 Swing trading is a type of trading strategy that traders can use.
The term swing trading itself can be interpreted as a trading strategy that takes advantage of high market momentum and thus ignores low price movements.
Both technical and fundamental analysis is known to be used in this strategy.
Regarding how it works, traders who use this strategy only need to buy and set profit target limits with further limits when making transactions.
The profit target for swing trading will usually be higher than the day trading target.
Therefore, the price usually takes several days to weeks to touch the selling target for this trading strategy.
On the other hand, to maximize profits, traders who use swing trading or swing traders need to do pre-market research.
In the process, swing traders will review the market, look for potential trades, and create a watchlist.
Hold positions taken by traders with this type of trading strategy are usually within a daily, weekly, or monthly period.
The goal is to profit from the fluctuations in stock price—if the investment is in the stock sector, for example.
Advantages and Disadvantages of Swing Trading
The swing trading strategy certainly has several advantages as well as disadvantages, which are as follows:
1. Advantages
Compared to day trading, swing trading has a faster time for trading.
By taking advantage of most of the market changes that occur, swing trading can maximize short-term profit potential.
Since swing traders can rely solely on technical analysis, the trading process in this type of swing trading strategy will generally be simpler.
2. Disadvantages
The risk of changes in market trends that occur at night and on weekends will be very vulnerable to affecting trading positions.
Swing traders will be exposed to a sizable risk if a market trend is reversed.
Due to the focus on short-term market movements, swing traders will likely miss opportunities to make larger profits based on long-term trends.
Frequently Used Swing Trading Indicators
In general, three swing trading indicators are often used by traders, which are as follows:
1. Moving Averages (MA)
The moving average is one of the swing trading indicators that is often used.
This indicator focuses on the average stock price, which is then analyzed to find the final result.
The average final result will show the trend of certain stock prices.
Moving averages consist of several variants, ranging from weighted moving averages and simple moving averages to exponential moving averages.
2. Moving Convergence Divergence (MACD)
Moving Convergence Divergence (MACD) is the latest version of the moving average indicator.
The presence of MACD has allowed the detection of trend tendencies for a reversal.
As a trend confirmer, MACD can help traders prepare when conditions change.
Besides that, MACD will also encourage opportunities in stock trading.
However, MACD is known to be relatively slow in its application to process data analysis.
Therefore, traders are strongly advised to use other technical analyses to support this indicator.
3. Price Action and Volume
Finally, there are price action and volume indicators, which will show the highest percentage increase in stock prices.
Price action can be understood as the basis for technical analysis. At the same time, the volume will confirm the strength and weakness of price action so that trend continuation can be identified.
It should be noted that the previous indicators also used price action and volume as a basis for analysis.
Things Swing Traders Need to Avoid
Here are some things that swing traders need to avoid, including:
1. Ignore higher timeframes
First, traders should not ignore higher time frames.
The reason is that to get an overall picture of the market, and high timeframes will be more useful for analysis.
2. Not having a good exit strategy
The second thing a swing trader should avoid does not have a good exit strategy.
It should be noted that having trade management and understanding when to trail stop loss to save profits are the characteristics of a good swing trader strategy.
3. Not paying attention to the reversal area
Third, pay attention to the reversal area. If you find the main reversal zone, trading with the trend is no longer interesting.
4. Trade on ranges
Next, trade in a range. Usually, when market conditions are trending, that's where swing trading opportunities exist.
5. Not using fundamental analysis
The last thing a swing trader should refrain from using fundamental analysis.
The reason is most swing traders focus more on technical analysis.
Trading will be damaged by itself if traders don't use fundamental analysis.
Swing Trading Strategy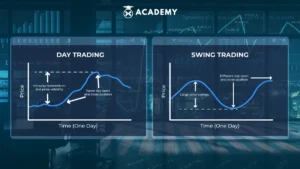 Some of the swing trading strategies that a swing trader can do are as follows:
1. Identify trends
Identification of market trends that occur is the first strategy that a swing trader must carry out.
2. Perform technical analysis
Technical analysis will help swing traders determine whether there will be an increase in currency pairs or pairs in crypto assets.
3. Determine the entry point
Swing traders must be able to determine the entry point or price when they enter a trade in the market.
4. Set stop loss and take profit
In this case, a larger stop loss is required to deal with price volatility, as the trade will last more than a day.
5. Maintain emotions in trading, including in crypto investment
When a trade is moving against the direction, the swing trader must remain calm.
6. Manage risk
Swing traders must also be able to manage risk by making small trades and remaining careful so that trades can go as expected.
Tips & Tricks
Meanwhile, some tips and tricks that swing traders need to know when doing swing trading are as follows:
1. Learn from mistakes
The right swing trader will always learn from his past mistakes when trading.
2. Be consistent in trading
Consistency is the key for a swing trader in carrying out swing trading to make profits according to the strategy.
3. Follow news about crypto assets and market events
A swing trader must also follow news related to crypto assets and market events.
With lots of information, traders can determine the right and measurable trading strategy.
4. Maintain discipline in trading
With high discipline, swing traders can gain big profits from their swing trading.
Disclaimer when Using Swing Trading
As a disclaimer, traders must also understand the risks that can occur when using swing trading.
This is important to know, even though many parties consider this one trading technique more profitable and successful in making consistent profits.
Even swing trading is inseparable from risks, including relatively bigger potential losses.
The reason is swing traders have to hold their positions longer than day trading even though this type of trading technique is an active trading strategy with a relatively short timeframe.
Thus, even swing traders will bear a higher risk of loss.
Besides that, swing trading also takes place over several days, even weeks.
This results in swing traders being exposed to risk longer than this day trading strategy.
Swing Trading Conclusion
Swing trading is a type of trading strategy that traders can use.
The term swing trading can be interpreted as a trading strategy that takes advantage of high market momentum and thus ignores low average price movements.
Some advantages of swing trading are that it has a faster trading time, can maximize short-term profit potential, and has a simpler trading process.
Thus was the complete discussion about swing trading, from understanding and advantages to tips.
So you can also read other interesting articles, such as scalping and spread trading, at INDODAX Academy.
After you understand and understand swing trading, now is the time to try crypto trading on INDODAX.
Come on, trade right now!